The DS Solomon Gray Series
The crime series perfect for fans of Ian Rankin, Stuart MacBride, and Peter James.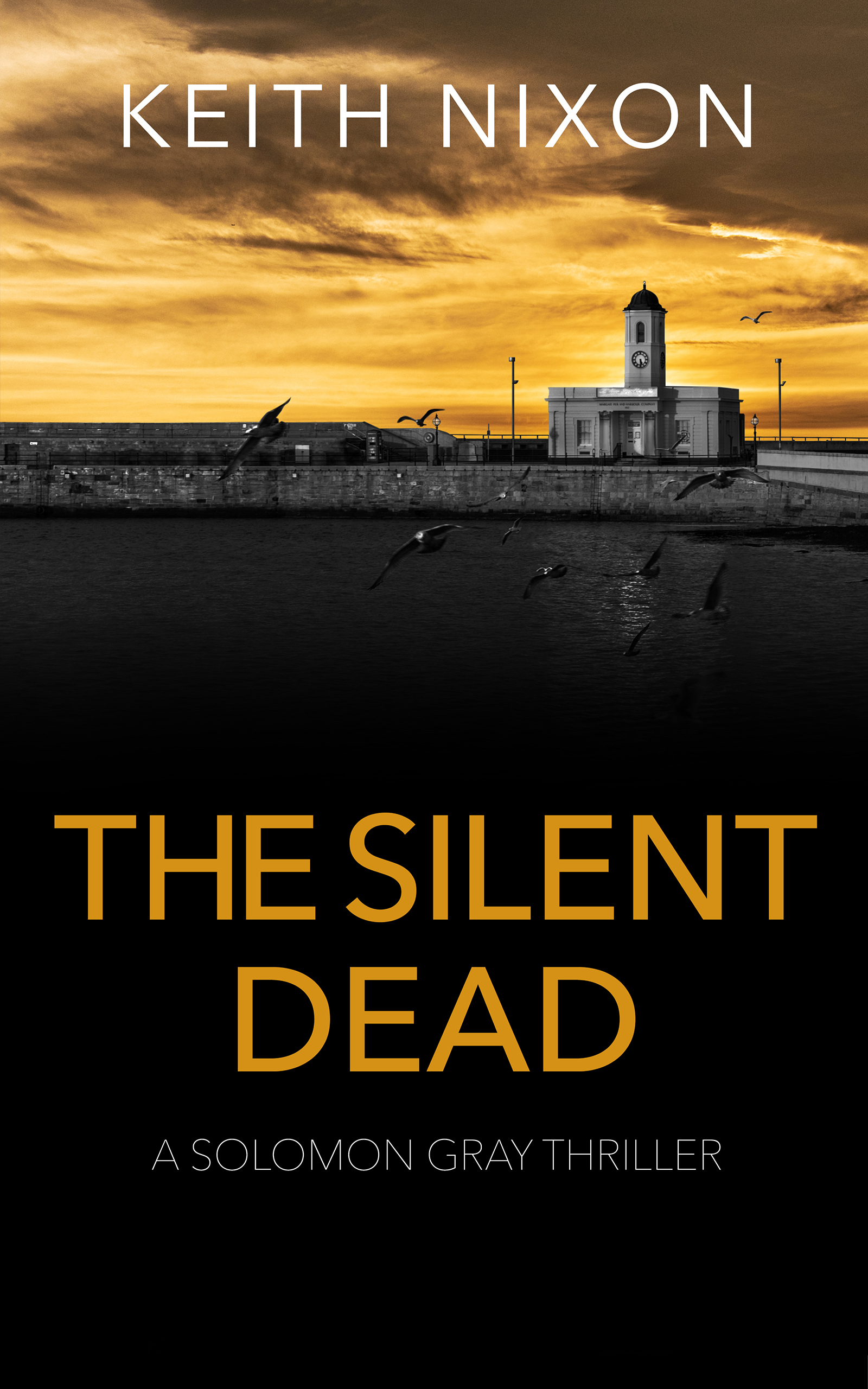 The Silent Dead - Out 17th September
A gruesome discovery. A secret long buried. The past uncovered.
When Detective Inspector Solomon Gray is called to a quiet residential property what he discovers is truly shocking – the mummified body of a new-born baby. The tiny corpse, hidden inside a cardboard box at the back of a wardrobe, is only found after the death of the homeowner, Andrea Ogilvy.
Until a few years ago Ogilvy was a foster carer for the local council, looking after hundreds of children during her career. But something made her give up her role. But what? Nobody truly knows.
DNA analysis on the child leads Gray to three women; one of which may be the abandoned baby's mother. Gray digs deeper, uncovering painful family secrets and lies. It seems vulnerable young women were being exploited by a man in a position of power. But who helped him cover everything up? And why?
And someone is setting a dog onto teenagers – criminals early in their careers. Seemingly a vigilante is operating, doing what the police won't. And, as usual, Gray's complex personal life interferes with his job.
Who is the baby? Why was it hidden? What lives will be shattered by Gray's investigation?
Was it suicide ... or murder?

When teenager Nick Buckingham tumbles from the fifth floor of an apartment block, Detective Sergeant Solomon Gray answers the call with a sick feeling in his stomach. The victim was just a kid, sixteen years old. And the exact age the detective's son, Tom, would've been, had he not gone missing at a funfair ten years ago. Each case involving children haunts Gray with the reminder that his son may still be out there - or worse, dead. The seemingly open and shut case of suicide twists into a darker discovery. Buckingham and Gray have never met, so why is Gray's number on the dead teenager's mobile phone?

With his boss, Detective Inspector Yvonne Hamson, Gray begins to unravel a murky world of abuse, lies, and corruption. An investigator from the Met is called in to assist, setting the local police on edge. And when the body of Reverend David Hill is found shot to death in the vestry of Gray's old church, Gray wonders how far the depravity stretches and who might be next. Nothing seems connected, and yet there is one common thread: Detective Sergeant Solomon Gray, himself. As the bodies pile up, Gray must face his own demons. Crippled by loss but determined to find the truth, Gray takes the first step on the long road of redemption.

Set in the once grand town of Margate in the south of England, the now broken and depressed seaside resort becomes its own character in this dark detective thriller.
Mixing business with family can be a murderous affair ...

A body washes up on the beach near Ramsgate in the South of England. For DS Solomon Gray, the case appears cut and dried-a drowning. An immigrant. Another victim to the sea in his desperate attempt to reach the UK.

As the tidewaters recede, two more corpses surface. One appears to be a refugee, stabbed to death. The other, Gray recognises immediately. Regan Armitage: son of business tycoon Jake Armitage. Gray knows this means trouble.

A post mortem reveals ligature marks on Regan's wrists. Drugs in his bloodstream. All signs indicate murder. Armitage swears to track down his son's killer and avenge his death.

Gray's investigation points to a deadly fire ten years prior, and soon Armitage comes under suspicion. But DS Gray knows what it's like to lose a child and puts aside his distrust of Armitage to help.

How are the dead men connected to each other-and to the infamous fire? It's then that Gray gets another tip on the whereabouts of his own missing son, Tom ...

Two men fight to prove their innocence. One a cop, the other a convicted murderer. One of them is lying.

Fifteen years ago Duncan Usher was sent to prison for killing his wife, Valerie. Young Detective Solomon Gray was first at the scene. His biggest case yet.

But Duncan Usher didn't kill Valerie. While someone was strangling Val, Usher had another man's blood on his hands. Usher took the fall for Val's death, but now he's out. Released on a technicality. He's held a grudge all this time, and he won't stop until he gets revenge on the dirty cop who framed him. Usher sets his sights on DS Solomon Gray.

And he has no qualms about using Gray's son, Tom, as a pawn to get what he wants.

A missing son, a web of lies, a murder covered up.

Detective Inspector Solomon Gray is getting closer to finding his son, missing now for over a decade. He's on the trail of a bent cop, Lewis Strang, who appears connected to the disappearance, all those years ago. But Strang is untouchable, a star of the Metropolitan police force. Once more, Gray must blur the line between right and wrong.

When the body of a young black man turns up on a Margate back street it seems to be yet another drug related crime. Margate is currently the focus of a special operation, codenamed Pivot, to take down local suppliers. But Gray discovers there's more to the case than initially meets the eye.

And Gray has his own problems to deal with. First there's the public investigation into the death of Gray's ex-boss, DCI Jeff Carslake and then Gray's estranged daughter, Hope, turns up on his doorstep – she's pregnant and left the child's father.

As Gray investigates he discovers the truth about Tom and who took him. A truth that is even more shocking than Gray ever expected…
"Don't waste your time, he's just another dead junkie."
That's what Detective Inspector Solomon Gray is told when the body is found. But Gray recognises the junkie's name – an old school friend of his daughter. The trouble is, drug users are the underclass, who cares about them? Investigations are brief and the deaths ruled accidental, the people are soon forgotten and life moves on.
Soon, Gray learns there's a new gang in town, quietly supplanting the previous channel. Albanians, well known for their brutality. The Albanians, run by the vicious Leka Krisniqi, work by fear and intimidation, making it near impossible for Gray to break in. Word from the street is Krisniqi's gang are killing anyone remotely suspected of working with the police, spiking drugs with enough contaminant, just the weight of a snowflake, to ensure the user is dead the moment the narcotics enter their body.
And Gray gets a call from an old foe, Sylvia – she was PA to Gray's deceased and disgraced boss and ex-friend. Sylvia's husband has gone missing. Early one morning he upped and left with just the clothes on his back and hasn't been seen since. However, Gray isn't keen to help, one missing man who's walked out on someone he doesn't much like hardly seems important when compared to a spate of murders.
Eventually, Gray finds someone who just may be able to help, a street dealer called E. But she's afraid for her own life and that of her family. But first Gray must do something for her…
Can Gray bring down the Albanians before more people die?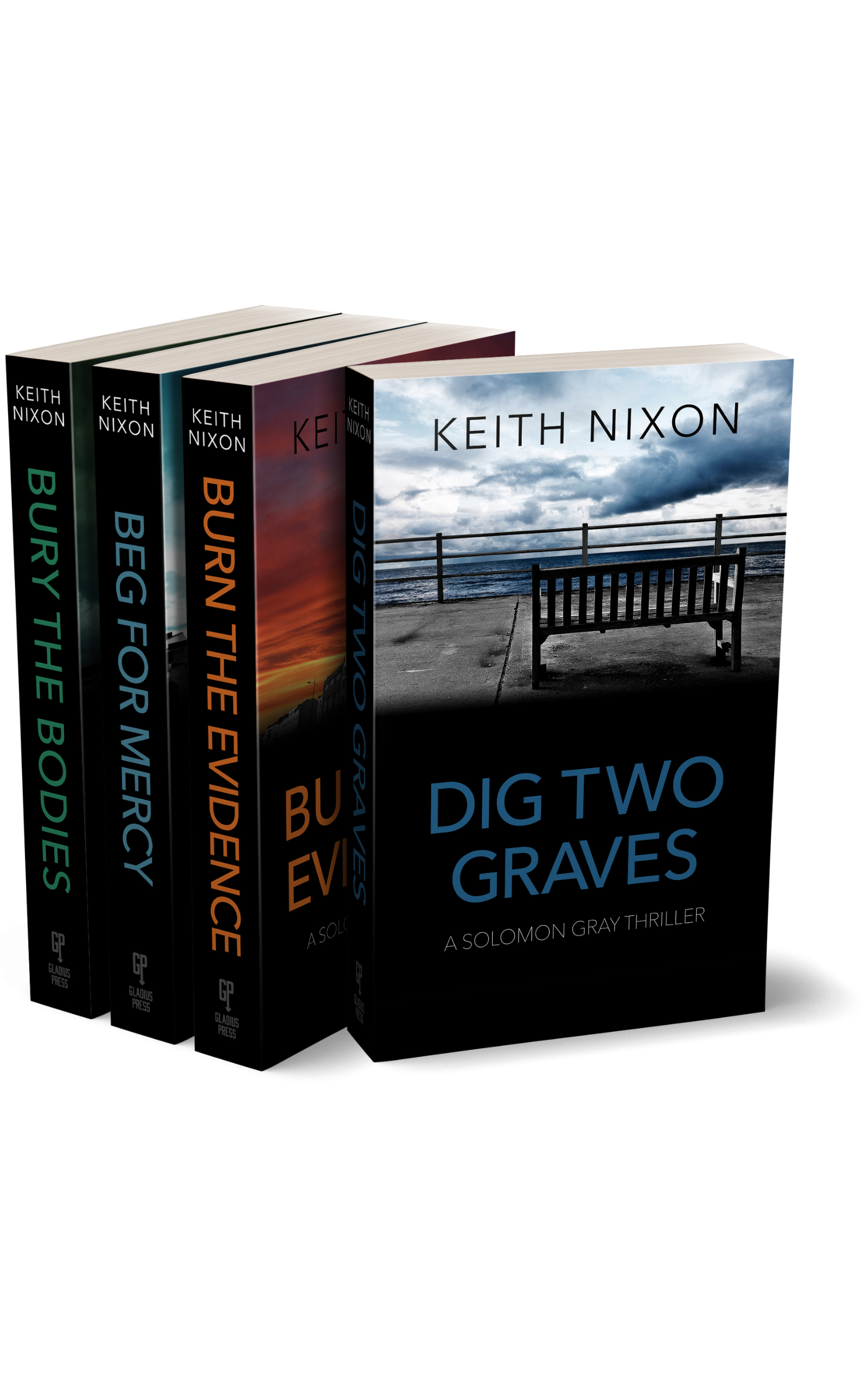 Read all four books in this best selling box set collection.

Dig Two Graves Was it suicide ... or murder? Detective Sergeant Solomon Gray is driven to discover the truth. Whatever the cost.

Burn The Evidence Mixing business with family can be a murderous affair ...

Beg For Mercy Two men fight to prove their innocence. A cop and a convicted murderer. One of them is lying.

Bury The Bodies A missing son, a web of lies, a murder covered up.

Pick up the best selling Solomon Gray box set collection now to discover whether Gray solves the mystery and finds his son in this thrilling crime series.